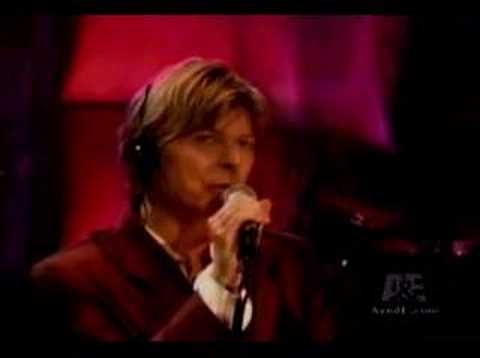 Video: David Bowie "Changes." Photo by Felix Burton
There's only so many hours in a day and days in a week… and only so much time to read.  For some semblance of balance in my reading, I try to mix great fiction (Wallace Stegner is my current favorite author) to balance out the deluge of articles and reports on climate change I try to stay current with.
On my reading list are articles from the Post Carbon Institute, with tantilizing articles with titles like RESILIENCE: Personal Preparation, FOUNDATION CONCEPTS: Beyond the Limits of Growth, and Wes Jackson's "The 50-year farm bill".  I've glanced over the article "Planet Doom: Nine scenarios for imminent apocalypse- only one is global warming" by Bradford Plumer from the May 13 issue of The New Republic that I somehow missed. And I still haven't written up the summary several key articles from the special issue on Climate Change from Theory, Culture and Society.
But I did listen to Jim White, Director of the Institute for Arctic and Alpine Research (INSTAAR) here at University of Colorado at Boulder on the radio this morning, interviewed by Tom Yulsman about his recent visit to Greenland (starts at minute 6). White and other ice core experts have drilled down the bedrock through the Greenland icesheet to retreive a climate record of what the world was like during the last interglacial period when the world was warmer than it is now and sea level was higher.
In the interview, White points out that climate always changes, it is certainly changing significantly now largely due to the physics of adding additional greenhouse gases to the atmosphere. And, even if Congress had passed a climate bill in recent weeks when he was gone, climate change will continue into the future, with at least three feet of sea level rise in the coming century and ten or fifteen feet in the coming centuries. Nor is climate the only thing about the Earth system that humans are changing: we are seriously altering the nutrient balance, and we move ten times more dirt on the planet than natural processes.
But he also expressed keen optimism that we can make intelligent choices and decisions, dispite how depressing it can all be. As a professor, he sees the intelligence of students who he teaches and works with, young people who understand the urgency and scale of the challenge and want to– and will– make a difference.  The challenges are daunting– moving cities like Miami that are situated at sea level will be enormous undertakings, with difficult tradeoffs to make with other pressing priorities and limited resources.  But, with intelligence and accepting the reality of the situation, we can face and deal with, adapt to the changes.
I also had the chance today to read an article from Mike Hulme entitled Learning to Live with Recreated Climates in the current issue of Nature and Culture (available in PDF with free trial) that is optimistic, but in a very different way from White.
As a sociologist, not a climate scientist, Hulme writes:
our current (fearful) preoccupation with climate change emerges from two paradoxical desires: the desire to recover some mythical benign stable state for the world's climate and the desire to assert ourselves over the world's climate by engineering our way to achieve this outcome. But by seeing climate either as something to be idealized or as something to master, we fail to see what is happening to the world's climate. It is being reinvented as a novel entity, now co-produced between human and nonhuman actors. Rather than resist and lament the results of this new creative force, we must learn to live with them.
Hulme not so subtly criticizes efforts to stabilize climate to the way it was once upon a time as naive and out of touch with the reality.  While he doesn't call out groups such as 350.0rg by name, he suggests that trying to go backwards to a "stable" climate is fantasy, the myth of the Lost Eden.
Realizing that our purifying tendencies have opened the way for both inadvertent and deliberate manipulation of climate, we seek forms of re-enchantment. This is the Edenic myth, our lament that by changing the climate, by losing wildness in one of the last untouched places, we are diminishing not just ourselves, but also something beyond ourselves.
He is equally critical of the dominion over nature that, like the Eden myth, has emerged in rationalistic societies.
We want to shield ourselves from the sun. As with a thermostat in a room, we are inventing a thermostat for the planet. By approaching climate simply as a numerical index of global temperature to be regulated we allow ourselves to dream of such techno-solutions to our climate fears. As the mathematician von Neumann prophesied more than half a century ago: "Intervention in atmospheric and climatic matters will come in a few decades and will unfold on a scale difficult to imagine at present … what power over our environment, over all nature, is implied!"
To counter gloom and doom, Hulme suggests embracing the "hybrid climates" that are already manifesting around the world.
But whatever we call it we cannot return to living with a simply natural climate. Climate is subject to the "hot breath of humanity"—to use novelist Ian McEwan's memorable phrase—just as are forests, rivers and seas, and just as are creatures, microbes, and nanoparticles. Climate and these other companions are all ours, both in creation and in relationship….We are now and forever the cocreators of our new hybrid climates.
Calling on all of us to not fear climate change but radically rethink it, Hulme's enthusiasm looses some steam when he suggested celebrating our weather rich experiences afforded by our ability to be more mobile and vicariously experience weather through digital communication.  His primary thesis, however, is that we must eradicate the notion of restabilizing climate:
Whether it is the imagined benign climates of Eden's past or the stabilized safe climates of the future controlled by a planetary thermostat, we delude ourselves to think that stability is the norm, or the achievable. In the dance between Nature's chaos and human intent it is change and variability that always prevails. Climate stability is a chimera and is best lost from our imaginations, and from our political and scientific vocabularies.
Not a strategy that Bill McKibben would likely support. But Jim White might agree. Hulme will be no doubt criticized for in effect "giving up" or surrendering to the inevitability of climate change.  But both he and White agree: change is a-coming. And it's here, now.
The question is: will we deal with it intelligently or not?
UPDATE: Over the weekend I caught McKibben's hour long interview "The Moral Math of Climate Change" on American Public Media's Speaking of Faith. In the interview, McKibben continues to make the claim that "climate scientists" agree that 350 parts per million of carbon dioxide in the atmosphere makes for a stable climate, and since we're already above that, we should strive to return to a less destabilizing level below 350 ppm.  Putting aside for now the myraid issues of picking a number like 350 and presenting it as if all climate scientists agree on number, McKibben does raise some of the moral, ethical and equity issues that any climate mitigation/adpatation/preparedness effort must consider.