CSTPR Noontime Seminar
Public Discussion: Policies on Climate and Environment
with Colorado Senator Steve Fenberg (D - Boulder)
*Co-Hosted with the Benson Center for the Study of Western Civilization. Seating may be limited for this event.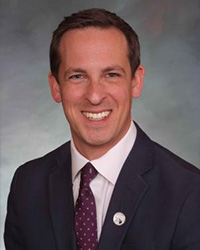 Senator Steve Fenberg represents Colorado Senate District 18 in Boulder County. Before entering the Senate, Steve served for a decade as the founding Executive Director for New Era Colorado, the largest state-based young voter mobilization organization in the country. Under Steve's leadership, New Era Colorado registered hundreds of thousands of young people to vote, helping shape Colorado's current political landscape.
Steve has served on several committees and boards while in the Senate, including the State, Veterans, and Military Affairs Committee, the Agriculture & Natural Resources Committee, the Governor's Council on Blockchain Technology, and the Bipartisan Election Advisory Committee.