CSTPR Noontime Seminar
Local responses to disasters in Peru and Puerto Rico: An approach from zero-order responders
by Fernando Briones, Consortium for Capacity Building, Institute of Arctic and Alpine Research
This talk will be available via webcast here.
Abstract: During disasters there is a window of time before official and/or external support arrives. During this period, citizens must act unsupported by first responders – devising self-coping strategies in order to survive. In the days, weeks and months following a disaster, local populations are still facing recovery with creativity. The actions and experiences of citizens pro-acting to pave fruitful futures is valuable experience on improvements for disaster risk reduction and management. Here we introduce the notion of Zero Order Responders (ZORs); they are the first to the unfolding events of a disaster, because they live at ground zero. In order to support this concept we review two extreme hydrometeorological events illustrating how local populations cope with disasters during the period before external support arrives. The data was collected by direct observations during the 2017 El Niño Costero-related floods in Peru, and by the review of press following 2017 hurricanes Irma and Maria destruction in Puerto Rico. The ZORs testimony about how they survived and their perception of preexisting preventative programming is likely the truest compass on the clearest path to improvements and the rethinking of measures developed dominantly from the top down.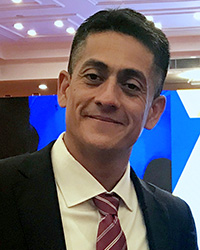 Fernando Briones is a Research Associate at Consortium for Capacity Building (Institute of Arctic and Alpine Research) of the University of Colorado, Boulder. He holds a PhD in Social Anthropology from The School for Advanced Studies in Social Sciences (École des Hautes Etudes en Sciences Sociales), Paris, France.
He has been consultant and researcher in Mexico, collaborator and lecturer of international organizations in Latin America such as FAO, UNDP and ECLAC. He is a member of the Scientific Advisory Committee for National Coordination of Civil Protection of Mexico, and a member of the National System of Researchers of The National Council of Science and Technology of Mexico.
His work focuses on disaster risk reduction, the understanding of risk perception, social vulnerability, resilience and the applicability of public policies on climate change adaptation. His articles, books and scientific reports have been mainly developed with research in Mexico, Brazil, Argentina, Peru and Central America.