Cooperative Institute for Research in Environmental Sciences
Cooperative Institute for Research in Environmental Sciences at the University of Colorado Boulder
DEI
Advancing diversity, equity, and inclusion (DEI) at CIRES
DEI
Advancing diversity, equity, and inclusion (DEI) at CIRES
The Tetons tower above a cluster of Indian Paintbrush flowers in Grand Teton National Park, Wyoming.
- James Mothersbaugh/CIRES
Set up a 30- or 60-minute discussion (online or in-person) with Diversity, Equity, and Inclusion Director Becca Edwards.
Vision
Justice, equity, diversity, and inclusion are core values at CIRES. Our lived commitment to these values shapes our work culture and is essential to how we practice excellence and integrity in environmental research.
Mission
CIRES will advance justice, equity, diversity, and inclusion in these ways:
Fostering an inclusive, respectful culture that recognizes and embraces the diversity of our communities.
Building capacity to successfully seek, hire, and retain a diverse workforce.
Increase partnerships with organizations that serve underrepresented and marginalized groups in environmental sciences.
The CIRES DEI strategic plan guides our intention to create a workplace culture in which the talents of all individuals are cultivated, recognized, and appreciated. The plan is built around three imperatives, shown in the image below. Each strategic intent is elaborated in the following sections, along with a description of our goals and relevant programming in development.
We commit to transparency throughout our process, and we always welcome your thoughts on how we can do better. Please feel free to set up a meeting with our DEI Director, Dr. Becca Edwards, to get information on the CIRES DEI strategic plan or to discuss resources that would support you as a new CIRES employee.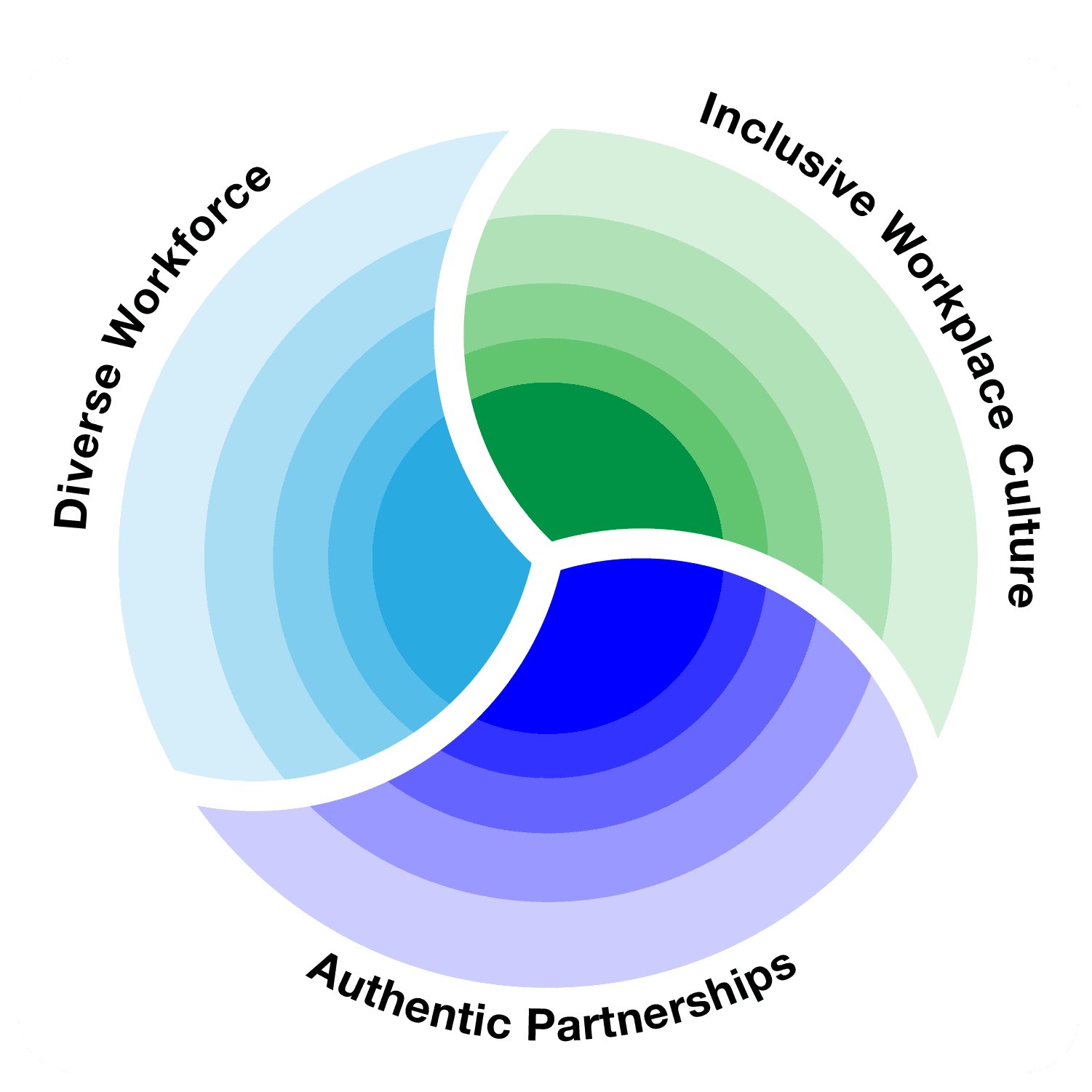 CIRES DEI framework
CIRES DEI framework. Credit: CIRES Communications
As part of our CIRES DEI Strategic Plan, we are working with CU Boulder DEI leaders and the Office of Data Analytics to participate in a Workplace Culture Survey. This survey gathers insights from students, faculty, and staff about their experiences in workplaces. The survey included measures to assess sense of belonging, respect, and support, and identity-based discrimination and harassment, including sexual harassment. Questions inquired about incivility and whether survey participants would attribute those experiences to aspects of their identity and, if so, which identity or identities. The survey also asked participants about the consequences of identity-based negative treatment and covered a range of identity-based harms that may occur in workplaces and classrooms. 
CIRES completed a workplace culture survey in Spring 2018. Results were shared with CIRES employees via a series of debrief meetings and CIRES employees were invited to participate in one or more focus groups in January and February 2019 to dig deeper into the survey results and to provide feedback and ideas for next steps. We will participate in the Fall 2023 CU Boulder Institutes Workplace Culture Survey; please check back for a schedule of events to discuss the results.
CU Boulder & NOAA DEI Events
Please note that events for NOAA employees and affiliates will not be accessible to CIRES employees located on campus.
Creating A Culture of Inclusion: Unconscious Bias in the Workplace Training Sessions are offered to help all NOAA employees and affiliates create a work environment where they are judged by their competencies and contributions; and not their gender, physical ability, ethnicity, age, race or other non-merit factors. Topics for this training include (but are not limited to): unconscious (implicit) bias, mental models, filters, perceptions and bias, types of bias, effects of bias in the workplace, organizational bias and more. 

Cafecito Leadership Hour provides leaders across the Federal workforce a space to share their career journey, perspectives, reflections, and advice with the Latinos@NOAA community in a relaxed, informal environment. The event includes a ~30 minute presentation followed by a ~30-minute conversation period (Q&As) between the speaker and the attendees. The Cafecito is open to all NOAA staff. The speaker is Ken Graham, Director of the National Weather Service (NWS).

December 8, 12-1 p.m 

Google Meet link