CSTPR Noontime Seminar
How Will The Fossil Fuel Era End?
by Antonia Juhasz, Investigative Journalist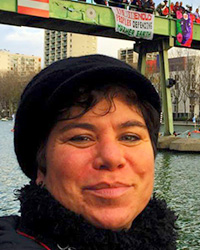 Antonia Juhasz is a leading energy analyst, author, and investigative journalist specializing in oil. An award-winning writer, her articles appear in Rolling Stone, Harper's Magazine, Newsweek, The Atlantic, CNN.com, The Nation, Ms. Magazine, The Advocate, Pacific Standard Magazine, and many more. Antonia is the author of three books: Black Tide (2011), The Tyranny of Oil (2008), and The Bush Agenda (2006).
Antonia is a 2019/2020 Ted Scripps Fellow at the Center for Environmental Journalism at the University of Colorado Boulder where she is writing a book on the end of the fossil fuel era. She is a 2017 Yale University Poynter Fellow in Journalism and a 2013 Investigative Journalism Fellow of the University of California, Berkeley. She holds a Masters Degree in Public Policy from Georgetown University and a Bachelors Degree in Public Policy from Brown University. Antonia founded and runs the (Un)Covering Oil Investigative Reporting Program with fiscal sponsor, the Society of Environmental Journalists.