Cooperative Institute for Research in Environmental Sciences
Cooperative Institute for Research in Environmental Sciences at the University of Colorado Boulder
Geomagnetism Associate Scientist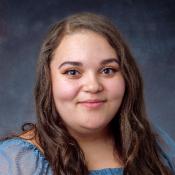 Education
Geophysical Engineering, Colorado School of Mines, 2019
Affiliated Department
Geomagnetism
Research Interests
I am a researcher in the Geomagnetism group at CIRES. I have my B.S. from the Colorado School of Mines in Geophysical Engineering.


Current Research
My group is conducting research on alternatives to the Global Position System which suffers from limitations such as where and when the systems can operate, as well as the potential loss of all signals if GPS satellites fail. One solution is to use magnetic field observations to aid in the navigation of land, sea and airborne modes of transportation.
Due to the nature of the internal and external magnetic fields, there is no way to directly measure the crustal field, which is the field that would best aid in navigation. We can only measure the total magnetic intensity, the superposition of all magnetic sources. My research is based on creating a near-real time removal of subsequent fields as to create a map of the crustal field that can be used to aid in navigation for land, sea, and airborne use.
Research Categories
Solid Earth
Invalid date
to
Invalid date -
---
Sponsors
Invalid date
-
Invalid date
P.I.(s)
---
About CECA
CECA connects and creates a supportive environment for graduate students and postdocs who come from various academic units to do research in CIRES.