Cooperative Institute for Research in Environmental Sciences
Cooperative Institute for Research in Environmental Sciences at the University of Colorado Boulder
Bruce Raup
Senior Associate Scientist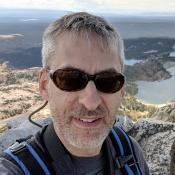 Education
B.S. in Engineering Physics, Washington University in St. Louis, 1987
M.S. in Geology (ice sheet modeling), University of Colorado, 1995
Research Interests
Bruce Raup is a senior associate scientist at NSIDC. He specializes in remote sensing of glaciers and ice sheets, and data management and software development related to glaciers.  He has applied remote sensing techniques to monitor the spatial extent and velocity fields of ice bodies ranging from small mountain glaciers to ice sheets. Raup has recently been involved in projects focusing on glaciers, snow, and runoff in High Mountain Asia, and is director of the Global Land Ice Measurements from Space (GLIMS) initiative. He enjoys sharing science with students and the public via photography, science fairs, and the NSIDC open house.
Current Research
Raup's research involves global mapping of changes in mountain glaciers via the GLIMS Initiative. He also works with the NASA High Mountain Asia project to make data products maximally useful and accessible.
Research Categories
Cryosphere, Technical and Computer Support
Invalid date
to
Invalid date -
---
Sponsors
Invalid date
-
Invalid date
P.I.(s)
---
About CECA
CECA connects and creates a supportive environment for graduate students and postdocs who come from various academic units to do research in CIRES.