Cooperative Institute for Research in Environmental Sciences
Cooperative Institute for Research in Environmental Sciences at the University of Colorado Boulder
Daniela Pennycook
Communication Coordinator and Program Integrator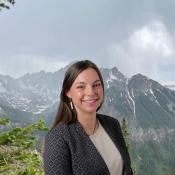 Education
B.Sc Environmental Resource Science, Trent University
Research Interests
Daniela holds the role of Program Integrator Communication Specialist at CIRES Education & Outreach, where her primary focus is to amplify the work of CIRES Education & Outreach projects. She is a passionate environmental educator with a keen interest in science communication. Daniela leads the Science Show & Share program, Pathways to STEM, VR Tour Development, We Are Water Exhibit logistics, and the activation of the Drifting North Polar field trip program. Daniela is a strategist and communicator who strives to create efficient and sustainable systems through data-informed decisions and inclusive practices.
Research Categories
Administrative Support
Honors and Awards
2022: Outstanding Performance Award
2023: Pathfinders Partnership Awards
Invalid date
to
Invalid date -
---
Sponsors
Invalid date
-
Invalid date
P.I.(s)
---
About CECA
CECA connects and creates a supportive environment for graduate students and postdocs who come from various academic units to do research in CIRES.