Cooperative Institute for Research in Environmental Sciences
Cooperative Institute for Research in Environmental Sciences at the University of Colorado Boulder
Hazel Bain
CIRES Research Scientist III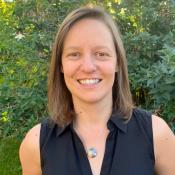 Education
Ph.D. Physics and Astronomy, University of Glasgow, 2010
M.Sci (Hons), Physics and Astronomy, University of Glasgow, 2006
Research Interests
Role:
- Develop, validate and transition to operations, space weather models and applications for radiation storm forecasting for human space exploration and civil aviation. 

Research Topics:
- Understanding solar energetic particle events.
- Machine learning approach to radiation storm forecasting. 
- Geoeffectiveness of geomagnetic storms.
Current Research
Development of space weather models and applications to be used by forecasters at NOAA's Space Weather Prediction Center.
Responsible for leading the center's efforts in radiation storm forecasting in support of SWPC customers the aviation and human space exploration industries.
Developing, validating, and transitioning proton forecast models and applications in support of SWPC products and services for future human space flight endeavors. 
Validating and maintaining the real-time operational U.S. Federal Aviation Administration CARI-7 radiation dose rate model used to support space weather radiation advisories for the International Civil Aviation Organization (ICAO). 
The development of data products which use real-time solar wind data from the Deep Space Climate Observatory (DSCOVR) spacecraft at L1.
Honors and Awards
2009: Royal Society of Edinburgh/Cormack Bequest Postgraduate Research Prize
2013: NASA Group Achievement Award to the RHESSI Science Team
2020: CIRES Outstanding Performance Award: Mentorship program
Invalid date
to
Invalid date -
---
Sponsors
Invalid date
-
Invalid date
P.I.(s)
---
About CECA
CECA connects and creates a supportive environment for graduate students and postdocs who come from various academic units to do research in CIRES.