Cooperative Institute for Research in Environmental Sciences
Cooperative Institute for Research in Environmental Sciences at the University of Colorado Boulder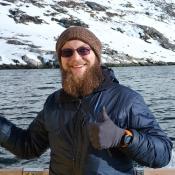 Research Interests
I am a software developer with a background in geography (GIS) and remote sensing.
I enjoy:
Building tools with Python to facilitate understanding of complex science data
Geographic Information Systems
Remote Sensing
Open Source / Open Science
Cryospheric sciences
Research Categories
Cryosphere, Technical and Computer Support
Invalid date
to
Invalid date -
---
Sponsors
Invalid date
-
Invalid date
P.I.(s)
---
About CECA
CECA connects and creates a supportive environment for graduate students and postdocs who come from various academic units to do research in CIRES.