Cooperative Institute for Research in Environmental Sciences
Cooperative Institute for Research in Environmental Sciences at the University of Colorado Boulder
Education and Outreach Director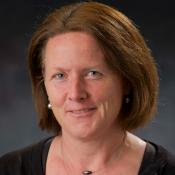 Affiliated Department
School of Education
Research Interests
Anne U. Gold, PhD, is a Senior Associate Scientist at the Cooperative Institute for Research in Environmental Sciences (CIRES) at the University of Colorado in Boulder, an Affiliate Faculty member CU's School of Education and the Director of the CIRES Education & Outreach Program. She focuses on science education for educators, students, communities and the public around climate, water, polar regions and geosciences in general. She is interested in understanding and studying effective ways of teaching and learning and is dedicated to grounding her education work in solid research and evaluation. She is passionate about building local partnerships with diverse communities. Anne has led dozens of NSF, NOAA and NASA-funded education projects and leads a vibrant group of 24 outreach and education professionals in developing engaging and meaningful educational opportunities for all learners. She is a climate scientist by training with a doctoral degree from the University of Regensburg in Germany.
Current Research
Climate Education, Climate Action
Place-based Education
Career Development of Undergraduate Students, REU program
Education focused on Polar Regions, Water topics and Natural Hazards
Scenario-based roleplay games 
Virtual Reality and Immersive experiences
Spatial Reasoning
Invalid date
to
Invalid date -
---
Sponsors
Invalid date
-
Invalid date
P.I.(s)
---
About CECA
CECA connects and creates a supportive environment for graduate students and postdocs who come from various academic units to do research in CIRES.