Cooperative Institute for Research in Environmental Sciences
Cooperative Institute for Research in Environmental Sciences at the University of Colorado Boulder
Monday, September 25, 2023
Counting grasshoppers: a summer in the field with RECCS
A community college student reflects on mentorship and field experience
Salome Carrasco spends the afternoon catching grasshoppers near Eldorado Canyon State Park
- Stephanie Maltarich
For community college students who study science, opportunities for fieldwork are rare. But one program in Boulder is trying to change this. Each summer, about a dozen students pair with mentors for a nine-week immersive experience studying science in all its forms. In July, CIRES Stephanie Maltarich spent the day with one of these students, who spent her summer catching and counting grasshoppers.
Salomé Carrasco started her day by setting up a nylon tent just off a hiking trail at the mouth of Eldorado Canyon State Park. The tent she brings along to research sites is used to protect her, dozens of grasshoppers, and her tiny research instrument, a small scale, from the summer wind and sun. 
This research site is one of three Carrasco and her team of researchers have surveyed nearly every day for the past nine weeks. 
"We are currently setting up the tent and getting stuff ready to be able to collect grasshoppers from different cages," said Carrasco. "Each cage has different species from different elevations." 
Carrasco was selected for the 2023 Research Experience for Community College Students, or RECCS. In May, she finished her associate's degree at Pikes Peak Community College and was eager to continue studying science. The program is run out of CIRES at CU Boulder, and offers a competitive 9-week paid summer research experience. 
Carrasco is working with a team of researchers from different universities on a project that is part of a larger initiative studying grasshopper responses to climate change, funded by the National Science Foundation's "Rules of Life" program. 
"So we're trying to see what the effects of climate change are on the grasshoppers," Carrasco said. "And by bringing them to these different elevation sites, we're basically speeding up the process of climate change."
At the start of the summer, Carrasco and her team spent many days at each site catching two different species of grasshoppers that live at different elevations around Boulder. The tiny ectotherms now live in mesh-covered tomato cages at each site. They feed on native plants and small tubes of wheatgrass.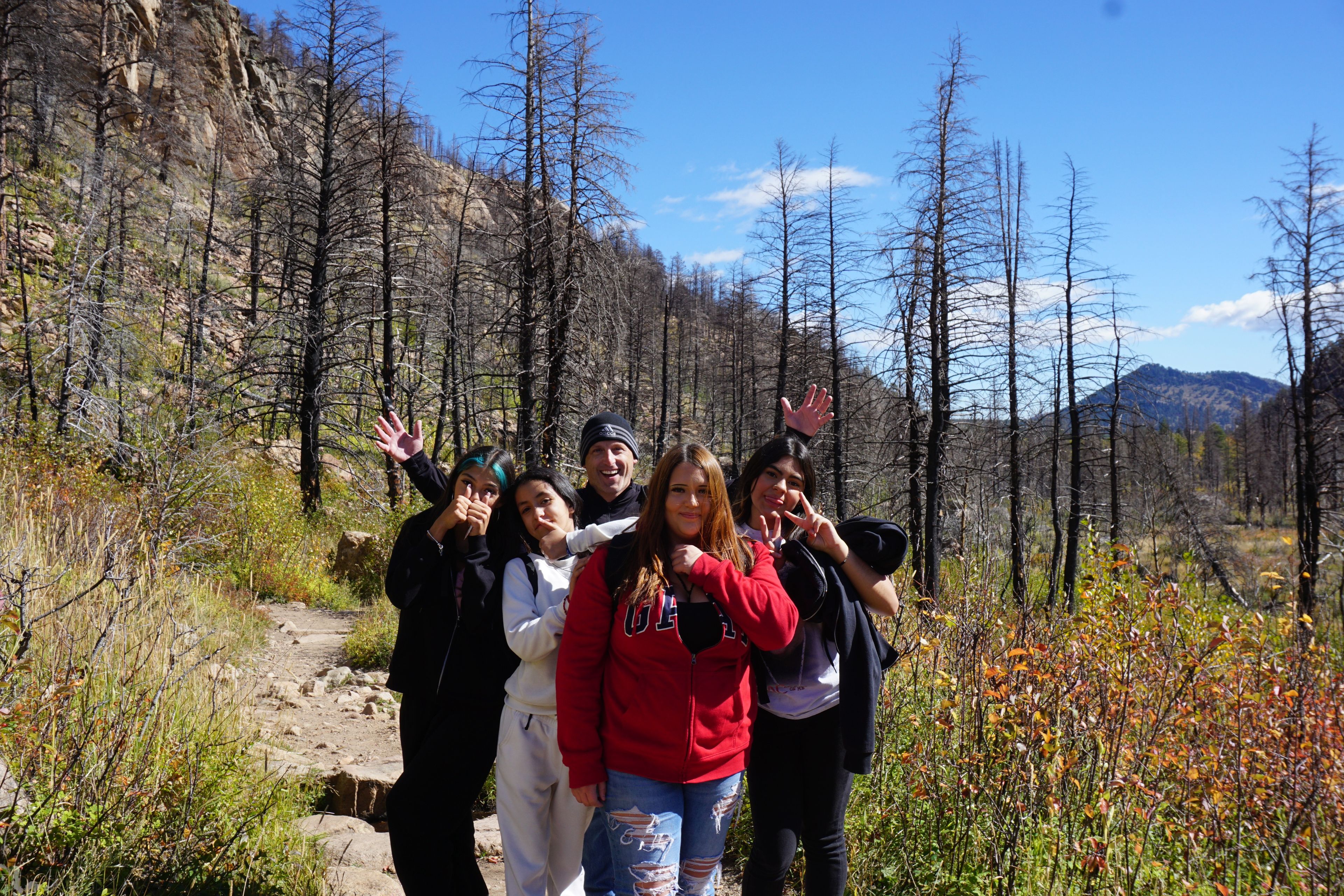 Salomé Carrasco examines a grasshopper she caught at the Eldo site
After setting up the tent, Carrasco observed a handful of grasshoppers jumping around in a gallon-sized ziplock bag. Then, it was time to start her daily tasks: weighing each grasshopper, documenting their age and sex, and then labeling the adults with non-toxic paint.
"So because the grasshoppers don't molt, after they become adults, we need to be able to easily track them and keep, you know, keep track of who they are, what their weight is, we color them," said Carrasco. 
Carrasco delicately reached inside the plastic bag while cupping her hand to capture a single grasshopper. Then, she gently pinched them between her fingertips while painting two distinct dots, one orange, and one purple to track the grasshoppers in the larger project. 
Watching her handle grasshoppers looked tricky, so I asked if it's taken time to learn how to handle the tiny creatures.
"Definitely," she said. "It's still a struggle for me too, I'm not as good as the other people, but they've got lots of experience."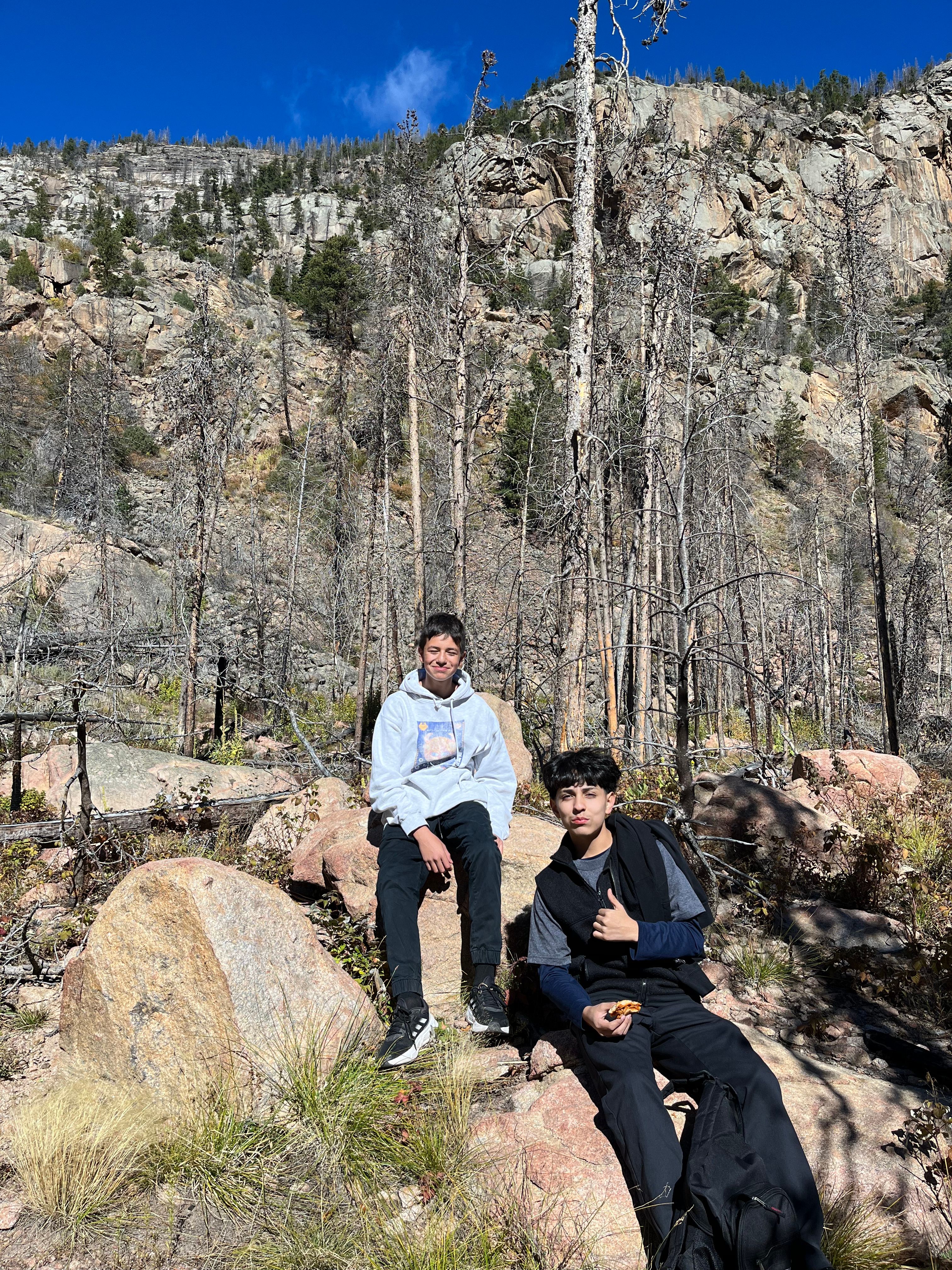 Carrasco holds a grasshopper she painted
CIRES Alicia Christensen is the program manager for the National Science Foundation-funded RECCS program. This summer the community college students studied antibiotic resistance, air quality, data visualization, and of course, grasshoppers. 
She said the experience seemed to be eye-opening for Carrasco.  
"I think she was really excited to get to focus on grasshoppers, it kind of took her back to her childhood a little bit," said Christensen.
And, she believes Carrasco developed an excitement for research. 
"I think she was really fascinated and interested in the research design process," Christensen said. "Like, how they set up kind of this experiment and, and set up a control for the experiment and were able to do that out in the field, and not in the lab."
In the afternoon, Carrasco started a short hike up a steep hill to meet three other students at an alpine meadow at 9,500 feet. This is the highest of the three sites. 
The day marked Carrasco's last day in the field. On the hike up, she reflected on the nine weeks and how they flew by. She learned how to track and handle grasshoppers in the field. She experienced working with a research team. And while she came into the summer thinking she just wanted to get a bachelor's degree, her advisor, had other ideas.
"And she told us 'why not try to get your doctorate?' and was like, well, because it can take too long and it's probably too much money when she told me 'oh, well, you know, they pay you right?'" Carrasco said. "I was like what? They pay us? And I was like, heck yeah, actually that sounds really interesting."
While Carrasco isn't certain she'll pursue her Ph.D., she's taking small steps. This fall, she started working toward a bachelor's in ecology and evolutionary biology at CU Boulder. And, she hopes she can return to the grasshoppers next summer. 
Contacts
Recent News